Post by trailboss on Jun 1, 2017 16:26:26 GMT -5
This month has been pretty rewarding.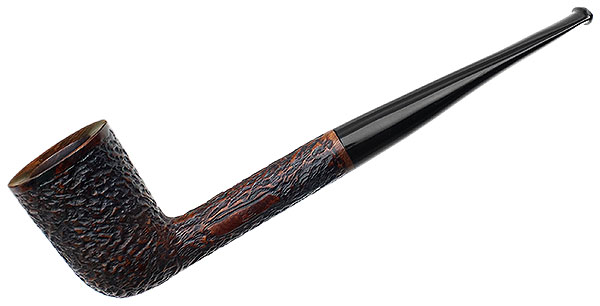 We are fairly certain this rusticated straight Dublin was made by Brakner, as it sports some similar stamping, and the combination of long profile and gently forward-canted bowl form are a smart one, no doubt. Condition is good, with only a little rim darkening.



- Daniel Bumgardner

Definitely a Brakner...searching the web, flushed this out.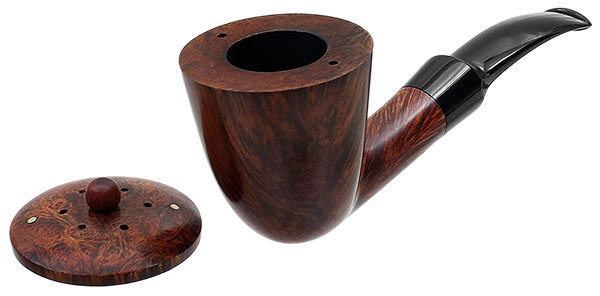 Estate Pipes » Danish Estates » W.O. Larsen Handmade Bent Dublin with Briar Wind Cap (Specia

Danish Estates: W.O. Larsen Handmade Bent Dublin with Briar Wind Cap (Special)

Product Number: 004-001-11085

This isn't a style we see very often. Aside from being a graceful, poised bent Dublin, imbued with a subtle flare about the shank to counterbalance the pronounced degree of the same about the bowl, the really unique feature is a bit more obvious. Namely, it's a briar cap fitted to the top of the bowl, set securely in place by two brass pins. Rather than the traditional wind cap, this one is likely designed to preserve a partially-smoked bowl of tobacco; as it is made from briar, smoking with the cap in place would likely burn the underside of the cap. In doing so, one would show blatant disregard for the plethora of birdseye that lives upon it, bolstered by strong licks of flame about the bowl's flanks. This piece is only lightly smoked, too.



- Daniel Bumgardner

I hate seeing families split up, so....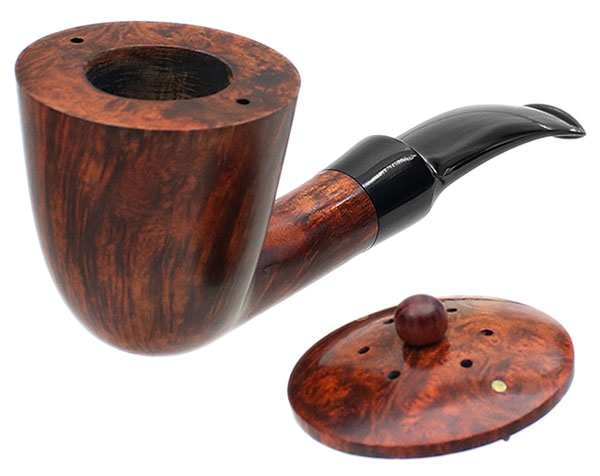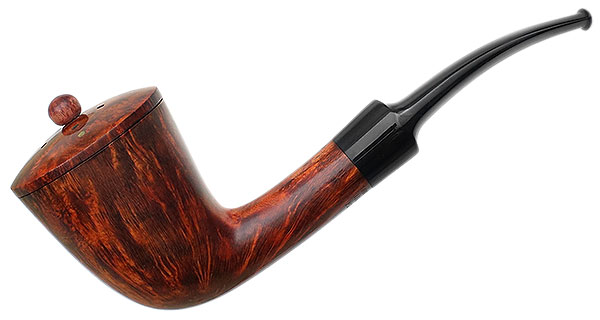 Danish Estates: W. O. Larsen Handmade Bent Dublin with Briar Wind Cap (Special)

Product Number: 004-001-11438

Unusual and pretty damn spectacular, this W.O. Larsen presents a fine bent Dublin design rendered in briar that's pretty lush as far as flame grain goes. Then comes the fun part (which is to say, the unusual part): a cap. Specifically it's a windcap, held in place by two brass pins. By using pins instead of a hinge, the cap remains completely removable, so the pipe can be enjoyed with or without it. This also could have been achieved by the more common means of having a lip under the cap that would fit to the inner edge of the rim, of course. As for why pins were used instead, I would presume it was to make it clearer that the cap was fashioned from the same briar as the rest of the pipe, by having the cap fit in place only when it's oriented so the grain pattern lines up.



- Eric N. Squires

Yeah...I over-spent my allowance, but the wife was pretty cool...insisted that i buy the second one as long as i put it on lay away...now that's a good woman!