Post by Professor S. on Feb 17, 2021 20:20:14 GMT -5
As I intimated
in another thread
, I had to go to the post office to collect this package. It is, indeed, a very handsome pipe but I do not think I will be buying another Road Town pipe. For one thing, the bowl came coated with some chalky, grey stuff.
FWIW, Ron, this might be what's causing the persistent chemical taste in the one you have.
People on a couple other forums have mentioned this coating, and the general consensus is that removing the coating greatly improves the smoking experience. Since my confidence in China's manufacturing standards are extremely low, I decided that removing the coating entirely was in my best interests.
Could I have just spent more money and gotten a new pipe of reputable provenance that I didn't have to fuss with? Of course! But then I wouldn't have been able to tinker with it. I certainly don't want to go messing about with a quality pipe and ruin it!
I won't bore you with photos of removing the grey coating. I used 400 grain sandpaper taped around my index finger and around the end of a Sharpie. It worked. It worked really well.
Once I had gotten down to the wood (I hesitate to say 'briar,' because this is a
very
lightweight pipe. I'm not fully convinced that it is briar—or even real wood), I had to decide how I was going to prepare the bowl for future cake. Since I had already tried the sour cream and cigar ash trick, I thought I would give something else a try. Joeman recommended an egg white recipe, but something I saw on a couple different forums caught my eye: honey. Since one of the guys I used to do ministry with has some hives, I had some of his local honey already in the cupboard. I heated it to warm liquid, then gave the inside of the bowl a generous coating and hung the pipe upside-down over a paper towel until the honey had dried….well, as much as honey
will
dry, anyway.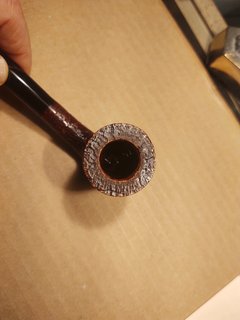 The other thing that gives me pause about this pipe is that the shank wall is extremely thin. The stem fits in well and securely, and I figure that I can find a jeweler or fountain pen restorer to put a collar on the shank when it splits.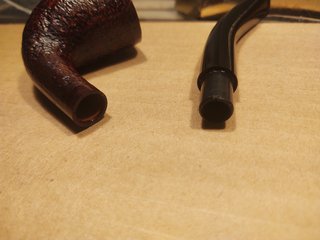 It's a good-looking pipe, and I am really looking forward to smoking it. When I do, I'll report back and give an update on how well it performs. My smoking/deep theological conversation brother is in LV,NV with his wife right now. That, on top of trying to get our house packed up and fixed up to sell, and my wife working from home the past week has curtailed my smoking and reflection time.