Post by PhantomWolf on Dec 1, 2017 21:50:36 GMT -5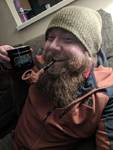 Is it in last month's what are you smoking thread or in the tobacco threads?
First time I smoked DistGent I was in the midst of crappy sinuses. Then I spilled the tin and only had two pipe fulls left, though I had a 7 ounce tin. Last week I gave it a try, thinking that if I liked it, only SP has it and I should get some. It shot to the top of my list now, which includes (leaving out the Holiday Types)
Sutliff VIP Match, which is down to about 5 or 6 in order of likes
Five Brothers is in the top 3
Butternut Burley is in the top 3
Sutliff J4 Burley about 4
DistGent top 3
1936 Briggs top 5
In rotation are
Whitehall Black Tie - Really in the top category, though I don't smoke it quite as much.
Brigadier Black Alamo - Vanilla, caramel
Vermont Meat Candy
Hickory Match
Captain Black Royal and Dark
7 Seas Royal
Mulled Wine
Velvet
Comoy's Cask 2
Heine's, EGR, Chatham Manor, Carter Hall, Sutliff Ready Rub, Sweet Cask, VIP Match, Smoker's Pride Black Cav (really nice BCav)
Now the Poofies - Pumpkin Spice, Christmas Spice, McCl Pastry, Low Country Hazelnut, Corn Cob Pipe & Button Nose
McC has a Holiday Spirit and Best of Show Aro that smell great, but a little vinegar new. Let them sit for a few years and wow
All of the above I have either a full tub of or a pound or two... or three. The tinned ones that do not come in anything over 2-3 ounces I have several, but my main concern are the ones I can just puff my way to eternity with.
Sorry you asked?
Awesome. I will absolutely give it a try.
I too like that Vermont Meat Candy a great deal. It is so good after a nice big weekend breakfast.
Also a big fan of the EGR. I find it similar to that one Holiday mixture you recommended which I also enjoy.
Chatham Manor and Butternut Burley are both on my list as well. Seem's they are usually out when I make my monthly order. I just added a can of Distinguished Gentleman to my SmokingPipes cart now. Hope it is still in stock when I complete the order.
You're an aro guy and a good person to ask, I wager- When people refer to Walnut, is that a reference to blend, or is walnut a popular topping? I love walnuts, so it stands to reason that a walnut blend would be nice. If so, are there any you would recommend?